MHF Events
Mennonite Healthcare Fellowship sponsors or supports various events throughout the year.
MHF Annual Gathering
A major event is held each summer in a location accessible to a large segment of our membership.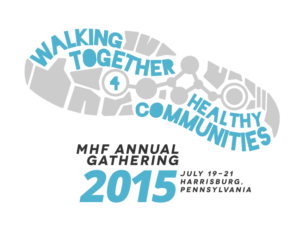 June 17-19, 2016
YMCA of the Rockies in Estes Park, Colorado
Theme: "Wholeness and Holiness: Views from the Mountaintop"
See the Annual Gathering page for more information about our past gatherings and updates on the upcoming one in Harrisburg!
Regional Meetings
Regional Meetings are held in areas where there are significant clusters of MHF members and where local hosts and coordinators volunteer to help plan such meetings.  Support with planning and publicity is available through the MHF Office.  The Regions page gives updated information on past and future Regional Meetings.
Mennonite Health Assembly
Mennonite Health Assembly (MHA) is an annual 2-3 day assembly held usually in the late winter or early spring.  Mennonite Healthcare Fellowship and Mennonite Chaplains Association participate in the planning of MHA alongside and under the administrative leadership of Mennonite Health Services (MHS) Alliance.  The next Mennonite Health Assembly will be March 5-7, 2015  in Cincinnati, Ohio.  More information about the upcoming MHA is on the MHS Alliance website.
Church Conferences and Conventions
Mennonite Healthcare Fellowship participates in other Mennonite-related conferences, conventions, and other events as time and resources permit.  See the home page for announcements about upcoming events as well as the following pages about recent or upcoming events: