How do we respond to Gun Violence as Anabaptist Healthcare Providers?
Virtual Conversation, Tuesday February 21st, 6 pm Eastern
Gun violence is an ever-present reality in our communities and our healthcare practice. How are we impacted by it? And how might we draw on our Anabaptist values to respond?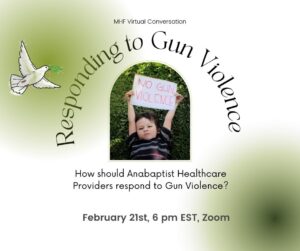 Join MHF for this important conversation on Tuesday evening, February 21st at 6pm Eastern over Zoom. Hear from MHF's Director and Board Members about their own experiences with gun violence in professional practice and their personal lives, then join other MHF members to listen and share your own stories and ideas on how we live out our Anabaptist values in light of gun violence. 
This Virtual Conversation is open to all MHF members. and anyone practicing in any discipline of healthcare who cares about Anabaptist values and wishes to join the conversation!