Mennonite Continuing Medical Education (CME) Opportunities
Family Camp & More!
CME Encounter is a Mennonite-affiliated CME provider aiming to offer integrative, family-oriented CME opportunities geared towards (but not exclusive to) family medicine providers. 
They have many upcoming opportunities for CME- including Chaplain CEUs! 
They also have family-friendly opportunities! See below!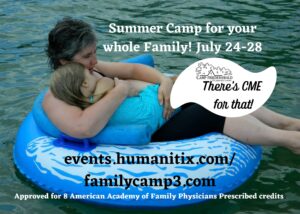 "We are trying something new – providing CMEs for doctors, nurses, and all healthcare professionals during Family Camp! Why should you always have to leave your family behind to get professional credits? As we heal from the COVID crisis, we want to acknowledge our healthcare providers and offer care to the caregivers, incorporated into a great week of family camp.
Compassion fatigue stems from practitioners not being able to remove themselves from their work long enough to recover and revive. Facilitator Amy-Marie Babcock will take the approach of helping build resilience through pleasure and joy, with the goal of successful self-regulation of anxiety, no matter the external context. Amy-Marie studied Religion/Communication at Bluffton University and holds a license in massage therapy, a Master of Divinity, and an endless sense of adventure.
This workshop has been approved at other venues, provided by CME Encounters.  An application for 8 CME credits has been filed with the American Academy of Family Physicians. Determination of credit is pending. A minimum number of registrations is required for the CME program to be offered at Family Camp."