Mennonite Health Journal
Articles on the intersection of faith and health
President's Column, July 2012
Joe Longacher, MHF President
from Mennonite Health Journal, Volume 14, No. 2, July 2012
"Integrated Healthcare" was our theme at the MHF Retreat 2012 at Laurelville Mennonite Church Center in Pennsylvania.  The U.S. Supreme Court decision on the Affordable Care Act (ACA) was announced the day before Retreat 2012 began.  It's hard to imagine a more timely pair of events.
Each of the workshops at the Retreat was connected in some way to initiatives that ACA has already set in motion.  Many of the healthcare reform provisions of ACA are broadly based and have already affected millions of people (54 million by the AMA's count).  Yet, there are two key ingredients that will produce improvements in health: (1) an emphasis on personal caring in the context of a scientific base, and (2) efficiently utilizing the skills of an integrated care team.
Integration of a growing number of treatment and prevention modalities was another key component of the Retreat.  MHF is providing a place where different disciplines can share their approaches and learn to value the contributions of others.
MHF members can definitely expect to hear more about the implications of health resource allocation in coming months.  Health professionals will be a focus of examination by both the government and the private healthcare industry and insurance companies for cost-effectiveness.  As total spending soars well above 2 trillion dollars per year, and important health status indicators are second-rate, it is dawning on legislators that their failure to take action might result in national bankruptcy and disruption of the healthcare system.
MHF will establish better Internet tools for communication.  One clear lesson from the Retreat is that within a short time, an in-depth discussion is difficult.  We also want to find a way to record Retreat sessions and post them online.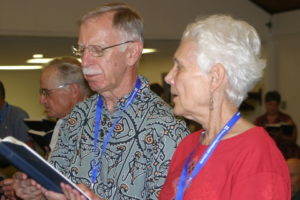 The MHF staff and board are grateful for evaluation feedback and other comments.  We are looking forward to next year's Retreat, June 21-23, 2013 at Goshen College.
Joe Longacher, MD, is a past President of Mennonite Healthcare Fellowship and lives in Harrisonburg, Virginia.  He retired at the end of 2012 from a practice in gastroenterology in Richmond, Virginia and was part of the Implementation Team that gave leadership to the formation of MHF.  Joe has also served at the conference and denominational level and was a past president of Mennonite Medical Association (MMA).   He is married to Constance (Brenneman), originally from Hesston, Kansas, and they have four children and six grandchildren.