Mennonite Health Journal
Articles on the intersection of faith and health
Excitement about a Summer Meeting
MHF President's Column by Eric Lehman
from Mennonite Health Journal, Vol. 17, No. 1 – February 2015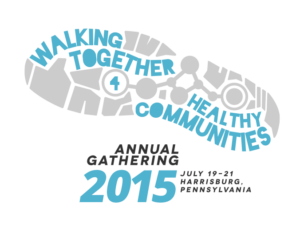 As I sit down to write this February article, the temperature is moving toward zero degrees. Although right now it is hard to imagine a summer meeting in warm weather, I am getting excited about the opportunity to attend the Mennonite Healthcare Fellowship Annual Gathering, July 19-21, 2015, at the Harrisburg Hershey Sheraton in Harrisburg, Pennsylvania.
It is inspiring to think about the opportunity for worship, fellowship, and networking with brothers and sisters from around the world! I am especially excited about hearing the faith journeys of others who work in the health care field.
Mennonite Healthcare Fellowship (MHF) has the privilege of presenting an exciting group of presenters for this year's Annual Gathering. Let me give you a quick overview and the rest of this issue of Mennonite Health Journal will fill in the details.
We will open the plenary sessions on Sunday evening, July 19, with Ted and Company who always bring their witty but insightful dramas. On Monday morning, we will hear Dr. Ann Thyle speak about service to the poor, and that evening listen to Shane Claiborne's presentation about recognizing God's kingdom on earth. To conclude on Tuesday morning, we will hear from David Gullman, who speaks about the broken body of Christ as an example for our lives.
Workshops this year will feature follow-up discussions from a number of the plenary speakers as well as some international guests. Bwire Chirangi will present a positive development in improving maternal mortality in Tanzania. Maurice Anyanga will speak on the Kenyan church's fight against HIV/AIDS. While other workshops are planned by North American speakers, these also will feature international implications. Linda Witmer, who has worked in both Guatemala and the United States, will discuss engaging congregations in health ministries. Catherine Thomasson will discuss climate change as a threat to global health. Curtis Book and J. Fred Kauffman will dialogue on the threat of gun violence in the United States while also recognizing its international implications.
For those with young children, childcare will be provided. Youth through age 18 can also participate in the Children and Youth Program planned by a group of persons from nearby Slate Hill Mennonite Church.
As MHF President, I want to say a big "Thank You" to the Harrisburg 2015 Coordinating Committee which has planned this year's Annual Gathering. Beth Good and Stan Godshall have served as co-chairpersons; other members include Rebekah Good Charles, Phil Moyer, Joanne Speigle, Myrna Eshleman, and Paul Leichty (MHF Staff). Thanks for a job well done! It will be difficult to decide which workshops to attend as the list of speakers is inspiring.
I invite everyone to attend this year's Annual Gathering which is a prelude to the Mennonite World Conference global Assembly. I cannot think of a better way to start off the week of July 19-26, 2015. God blesses us when we gather together to worship him and share the good news of the Spirit's work in our lives.
Eric Lehman, M.D., is a physician in family practice from Archbold, Ohio. He served on the MHF Board from 2012-2015 including a year as President.  Eric graduated from Goshen College in 1982 and Ohio State University College of Medicine in 1986. Following his residency, he has been serving the Archbold community in family practice medicine since 1989.