Mennonite Healthcare Fellowship
Blog article
Phrases from Psalm 31 have crossed my mind recently, recalled from the momentous events in my life a year ago.  
In you, O Lord, I seek refuge… (v. 1a)
Into your hand I commit my spirit… (v. 5a)
My times are in your hand… (v. 15a)
On the night of December 15-16, 2016, I drifted in and out of consciousness, remembering only these three things:
I was somehow aware that I was being flown by helicopter to Pittsburgh. 
I felt multiple shocks as the medical team tried to get my heart back in rhythm. 
And I remember praying "My times are in your hand…"
In the eleven months since then, that phrase has often come to mind. It has been a constant reminder that whatever I face and whether I live or die, my life is in the hands of my Creator God who revealed himself in Jesus Christ and sent the Holy Spirit to empower us to live in true life.
This week, I decided I needed to actually look up this reference.  When I did, I noticed its context–the psalmist, David, committing his future to Yahweh in the midst of many adversities.  And I noticed verse 5, the last words of Jesus on the cross, "Into your hand I commit my spirit…" 
As I started to recover, a number of people told me that they sensed, in the middle of their own prayers on my behalf, that "God was not through with [me] yet." All I can say once again in this season of Thanksgiving is that I am humbled and grateful. To be able to return to my family, my work, and my new church is truly an awesome reality!
Yet, it is even more awesome to know that in the events of my life, small and large, and whether I live in or depart from this world, I can continue to be thankful because I know that I can always truly breathe that prayer: "My times are in your hand…"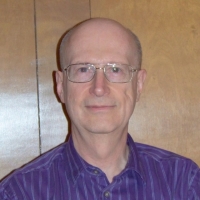 Paul D. Leichty, M.Div. was the first Executive Director of Mennonite Healthcare Fellowship (MHF), serving from Sept. 2011 through May 2020.  Paul has served as a pastor, church musician, computer support person, disabilities advocate, and administrator/organizer of a number of church-related ministries. In addition to responsibilities at MHF, Paul is Executive Director of Congregational Accessibility Network and was formerly Director of User Services at Mennonite.net.  He is a member of Agape Fellowship of the Mennonite Church in Williamsport, Pennsylvania where he lives with his wife, Twila Charles Leichty.