Annual Gathering 2022
IN PERSON October 14th-16th, MCC's Welcoming Place in Akron, PA
COMING TOGETHER AT THE WELL
RENEWAL THROUGH EXPLORING THE FIVE LIFE STANDARDS
Mennonite Healthcare Fellowship 2022 Annual Gathering was held October 14th-16th, 2022 at MCC's The Welcoming Place. 
Read the Recap here: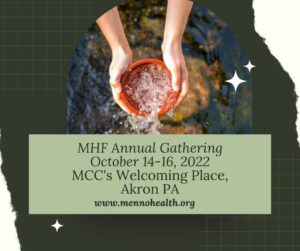 Mennonite Healthcare Fellowship (MHF) is pleased to announce our 2022 Annual Gathering will take place October 14th-16th in Akron, Pennsylvania at the Welcoming Place.
A weekend of refreshment, fellowship, worship, and deep conversations with your fellow Anabaptist healthcare providers in a beautifully wooded setting!
Annual Gathering 2022 Schedule
Friday, October 14, 2022
3:00-7:00 PM Registration/Check-In
5:00-6:30 PM Dinner and Fellowship
6:30-8:30 PM Welcome, Opening Session and Talking Circle Orientation
Saturday, October 15, 2022
7:30-8:30 AM Breakfast and Opening Prayer
9:00-10:30 AM Your choice of two circle sessions or a self-guided activity
      Circle 1: Life Standard 1 Do Justice
      Circle 2: Life Standard 2 Learn from the World Community
11:30 AM-12:30 PM Lunch
1:00-2:30 PM Your choice of two circle sessions or a self-guided activity
      Circle 3: Life Standard 3 Cherish the Natural Order
      Circle 4: Life Standard 4 Nurture People
2:30-3:00 Break and Snack (bring munchies to share!)
3:00-4:30 PM Your choice circle session or a self-guided activity
      Circle 5: Life Standard 5 Nonconform Freely
5:00-6:30 PM Dinner and Fellowship
6:30-8:00 PM Evening Session: Confessional Bible Study on John 4
8:00-9:30 PM Ice cream, campfire fellowship, music/story circles, board games
Sunday, October 16, 2022
7:30-8:30 AM Breakfast and Morning Prayer
9:00-10:30 AM Communion and Closing Session
11:30 AM-12:30 PM LUNCH
Throughout the weekend, additional leisure activities:
Nature walks
Art table
Hot beverage/snack station
Board/card games
Discussion board
Journaling
Audio/video/journal/photo reflection submissions
Music circles
Information about the Weekend
The weekend will include plenary sessions, discussion of the Five Life Standards using circle process, worship, time for rest and renewal activities, wonderful locally-sourced meals and snacks, and the fellowship of likeminded Anabaptist and Mennonite healthcare providers and their significant others to journey with one another in our collective calling to health and healthcare.
The proposed Five Life Standards we will be discussing and exploring are:
Do justice

Learn from the world community

Nurture people

Cherish the natural order

Nonconform freely
More about Malinda: Malinda is a member of the teaching faculty at Anabaptist Mennonite Biblical Seminary (AMBS) where she teaches theology and ethics and is the new director of the Faith Formation Collaborative at AMBS. Because of the way Living More with Less connects her interest in Mennonite spirituality, peace theology, and ecological stewardship, Malinda reached out to MHF after reading an article in Anabaptist World about the 5LS Nurture Council's initiative related to Living More with Less. That started a conversation that hasn't stopped. Malinda's extended family includes many healthcare professionals and their perspective on life has contributed immensely to her spiritual growth. She is looking forward to this gathering because she believes that, in light of the Apostle Paul's image of the church as a body, healthcare professionals have theological insights from their work that are of vital importance to Christian community.  
Donna Minter will be our Facilitator for the weekend.
More about Donna: Donna is founder of the Minnesota Peacebuilding Leadership Institute and a Lead Certified Strategies for Trauma Awareness and Resilience (STAR) Trainer. Donna is a licensed psychologist who has practiced neuropsychology for 25+ years in outpatient and inpatient clinics and educational settings. For 20+ years she has conducted court-ordered mental health evaluations and provided expert court testimony. As a peacebuilding instigator, she administers, implements, and conducts trainings and talking circles in Minnesota, throughout the USA, and internationally. Donna grew up attending Mennonite Medical Association annual gatherings with her parents Marty and Don Minter, and she now serves on MHF's Board and Nurture Council. Like most other healthcare providers in today's world, she is tired and needs rest, reflection, and renewal. Her deepening belief that God created her to be loved draws her to the well of God's abundant love to explore with others what it means to equally love ourselves as we love and serve others. She looks forward to spending time exploring the 5 Life Standards with others who are committed to the Mennonite/Anabaptist way of following Jesus.
The Venue
More about MCC's Welcoming Place: MCC's Welcoming Place is designed to represent an international village and reflect the homes, schools and churches of MCC's partner organizations around the world. All buildings are decorated with international crafts from Ten Thousand Villages. Surrounded by woods, there are four outdoor fireplaces, and each house offers coffee-makers and a kitchen that opens up to a common living space.
Within each of 4 guest houses are 11 bedrooms, including:
Private baths
Central gathering place
Kitchen
Porch
Outdoor and indoor fireplaces
Whole house fans
In-floor heating
Free wireless internet
There are rooms available with queen-sized beds or two twin beds. The facility is accessible, with a playground and childcare room for children, and a small walking path through lovely woods behind the conference center. It is accessible to Harrisburg, Lancaster, and Philadelphia PA (1 hour by car). There is a train available from Philadelphia to Lancaster PA as well.
COVID-19 and Other Cancellation Policies: MHF will observe public health precautions if community transmission is moderate or high (handwashing, masking indoors), though some of our activities will occur in small groups and may occur outdoors. After registering, you may cancel your registration by contacting info@mennohealth.org for a full refund up to 30 days before the event. A partial refund applies up to 21 days up to Annual Gathering. After that point, MHF's costs are non-refundable, and registration fees for those who cannot attend will be applied as a tax-deductible donation to MHF.