SET Participants
2017-18 Academic Year
Mennonite Healthcare Fellowship (MHF) encourages persons studying for healthcare professions to learn and serve in cross-cultural mission/service settings in developing countries.  To further this goal, MHF provides educational grants toward travel and living expenses for a Student Elective Term (SET).
MHF is was pleased to award Student Elective Term grants to the following students for the 2017-18 academic year.
Matthew Glick
Matthew Glick is a fourth year medical student at Indiana University School of Medicine in Indianapolis. He plans to train in Internal Medicine and specialize in Pulmonary Critical Care. He is a 2014 graduate of Goshen College where he played basketball and majored in chemistry and molecular biology. Aside from medicine, he enjoys running, traveling, and biking. 
Read Matthew's SET Report 
Leah Sitler
Leah Sitler is a medical student at Penn State University College of Medicine. She graduated from University of California, Los Angeles in 2012 and received an MS in Global Medicine from University of Southern California (USC) Keck School of Medicine in 2013. She did her Student Elective Term at Macha Mission Hospital in Zambia in February 2018.
Read Leah's blog.
Read Leah's SET Report.
Louise Babikow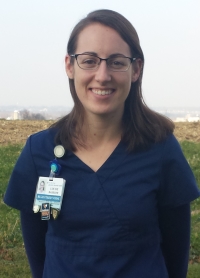 Louise Babikow is from Lancaster, Pennsylvania. She graduated from Eastern Mennonite University with a BS in Nursing in 2014 and is currently finishing a Masters in Nursing program at the University of Pennsylvania to become a Nurse Practitioner. She minored in Spanish in college and wants to do a SET experience in a Spanish-speaking setting. 
Read Louise's SET Report and view her slide presentation.
Jenna Nofziger
Jenna Nofziger is a medical student at The University of Toledo College of Medicine & Life Sciences, Toledo, Ohio. A 2014 graduate of Goshen College Traveling, she plans to do her Student Elective Term at Shirati KMT Hospital in Shirati, Tanzania, March 23 to April 20, 2018. She is married to Nathaniel Klink and in her free time enjoys exercise, reading, conversational Spanish language, arts and crafts, family time, and lake activities.
 Read Jenna's SET Report.