Annual Gathering 2019
Join us at Laurelville in June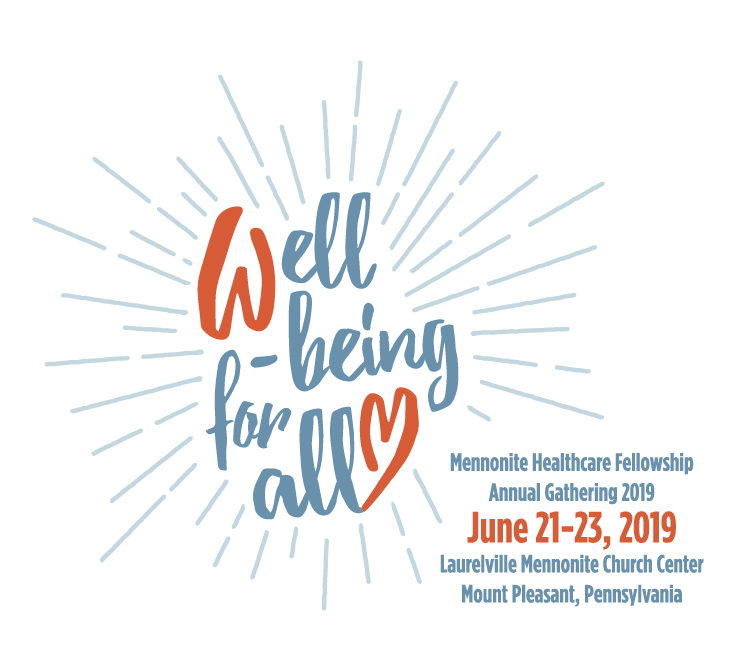 June 21-23, 2019
Laurelville Mennonite Church Center,
Mount Pleasant, Pennsylvania
Theme
Well-being for All: Developing Resilience in Healthcare
Annual Gathering 2019
Thanks to all who made Annual Gathering 2019 such a success. Select the links above to review the key events of Annual Gathering! Coming soon:
Plenary Sessions
Friday evening: Who is under your carbon footprint? Dr. Sibonokuhle Ncube, Harare, Zimbabwe
Saturday morning: Resilient Healthcare: A Matter of Trust. James Nelson Gingerich, MD, Goshen, Indiana
Saturday evening: Well-being for All: Responding to the Opioid Epidemic. John Boll, DO, FAAFP, Williamsport, Pennsylvania
Sunday morning: Addressing Moral Injury With Spiritual Strength. Clair Hochstetler, MDiv; Charlene Epp, MDiv; Susan Lanford, MDiv
For more information, visit the Presentations page. 
Workshop Sessions
Resilient Healthcare: A Matter of Trust. James Gingerich, MD
An Introduction to Art Psychotherapy: Offering Healing and Hope Through the Creative Process. Carol Martin Johnson, MA
Naturopathic Medicine and Integrative Oncology. Michael Reece, ND
Plain Complexity: Serving the Old Order Amish and Mennonite Communities. Janelle M. Zimmerman, RN, BA
Shifting Climates: Rehumanizing the Conversation About Faith, Hope, and Climate Change. Fellows from Center for Sustainable Climate Solutions (CSCS)
Training Community Leaders on Maternal and Child Health Services. Rebekah Maldonado-Nofziger, BSN, RN, DNP (cand.)
Personal Resilience and Spiritual Care. Panel of 3 chaplains.
For more information, visit the Workshops page.