Lancaster
Regional Meeting in Lancaster, Pennsylvania Area
Webinar Regional Satellite Location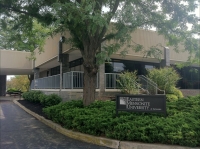 Thursday, February 15, 2018
7:00-8:30 pm EST
Eastern Mennonite University Lancaster Campus
1846 Charter Ln, Lancaster, PA 17601
For more information, see the Webinar Page.
The Affordable Care Act under the Trump Administration
Timothy Stoltzfus Jost, JD
Professor Emeritus, Washington and Lee University
The Affordable Care Act resulted in a significant expansion of health care coverage to working-age Americans. What has happened-and is likely to happen-to this expansion, and to the people whom it helped, under the Trump Administration?
Tim Jost will provide a description of recent suggested and enacted changes in healthcare legislation in the past year. During the second half of this session, participants will be encouraged to engage in a discussion on the ethical considerations that we as Anabaptists have regarding healthcare legislation. There will also be a time for questions.
About the presenter:
Timothy Stoltzfus Jost, J.D., is an Emeritus Professor at the Washington and Lee University School of Law. Jost is a member of the Institute of Medicine and a consumer liaison representative to the National Association of Insurance Commissioners. He is coauthor of a casebook, Health Law, used widely throughout the United States in teaching health law, and of a treatise and hornbook by the same name. He is also the author of Health Care at Risk: A Critique of the Consumer-Driven Movement; Health Care Coverage Determinations: An International Comparative Study; Disentitlement? The Threats Facing our Public Health Care Programs and a Rights-Based Response, and Readings in Comparative Health Law and Bioethics.
Jost is a contributing editor at Health Affairs and a frequent contributor to Health Affairs Blog. He has also written numerous articles and book chapters on health care regulation and comparative health law, including monographs on legal issues in health care reform for Georgetown's O'Neill Center, the Fresh Thinking Project, the National Academy of Social Insurance and National Academy of Public Administration, and the New America Foundation and Urban Institute.
Previous Regional Meeting!
Live Life Fully, Prepare to Die Well
Glen E. Miller, MD, MATS
Tuesday, October 14, 2014
7:00 p.m.
Landisville Mennonite Church
Landisville, PA 17538
Dr. Glen Miller, author of Living Thoughtfully, Dying Well shared his unique perspective to approximately 45 persons on October 14, 2014 at Landisville Mennonite Church. Discussion, refreshments, and fellowship followed.
For more information on Lancaster area Regional Meetings and other activities, contact Carol Spicher, Nutritionist/Diabetes Educator, or the MHF Office.
Please note these other nearby groups in Southeastern Pennsylvania: